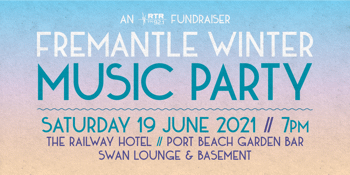 Fremantle Winter Music Party 2021
4 Separate Venues (Fremantle, WA)
Saturday, 19 June 2021 7:00 pm
RTRFM'S FREMANTLE WINTER MUSIC PARTY RETURNS TO THE PORT CITY IN WINTER.
RTRFM's annual takeover of North Fremantle returns this June, with the Fremantle Winter Music Party set to bring some heat to the cold weather on Saturday June 19.
It marks the event's return to the winter months, following its delay to spring last year due to COVID-19 restrictions.
The Fremantle Winter Music Party features 18 acts across four venues, including the Railway Hotel, Port Beach Garden Bar, the Swan Lounge and the Swan Basement, on Saturday June 19 from 7pm till late.
At the Swan Lounge, bask in the beats, rhymes and soulful vocals of some of the city's finest MCs and singers: Sowdy, Anesu, Drea, Cruz Paterson and the visually stunning Myriad Sun.
Step into the Swan Basement for an electric smorgasbord of performances from DV Stargaze, Gia Como, Claudie Joy and The Joy Boys, Ken Paolo and The Psychotic Reactions.
Or, head to the Railway Hotel and the newly revamped Port Beach Garden Bar outside where you can catch the psych-filled sounds of Hot Sand, indie magic from Cloning, lo-fi brilliance from Lo, pop-wondrous sounds from Ghost Care, a brand new show from Web Rumors, the debut show of Timothy Nelson's Indoor Fins, the in-your-face Yomi Ship and the magical sounds of Mt. Mountain.
Roll into North Fremantle for the Fremantle Winter Music Party 2021.
Presale tickets to Fremantle Winter Music Party are available now via rtrfm.com.au and Oztix. All ticket sales help to keep RTRFM on air and supporting local, independent music and arts. Please note, capacity across all venues is in line with COVID Restrictions and may fill quickly.
This event takes place on Whadjuk Noongar land and we pay our respects to Noongar elders past, present and emerging.