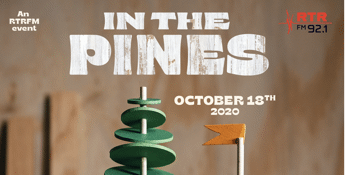 RTRFM presents
In The Pines 2020
Somerville Auditorium, UWA (Crawley, WA)
Sunday, 18 October 2020 11:00 am
In The Pines is a celebration of local music, bringing together some of the best talent from our home town and sharing it with the people of Perth to enjoy for a whole day and night at our home away from home for the last 26 years, Somerville.

Adrian Dzvuke // Cuss // Datura4 // Demon Days // Bolt Gun // Felicity Groom // Grievous Bodily Calm // Hi, Ok Sorry // Miss Genius // New Nausea // Nika Mo // Old Blood // Paranoias // Soukouss Internationale // The Struggling Kings // Shy Panther // The Bank Holidays with Menagerie Choir // Trolley Boy // Verge Collection // Wayne Green and the Ragged Company with Lee Sappho

In The Pines is proudly supported by City of Perth, Alby Beer, Gage Roads Brewing Co, Skigh Wines, Go2Cup, CCA Productions and Paramount Security.

Kids under 12 are free with a legal gaurdian. Kids over 12 are $20 with a legal gaurdian.

Please note: This event will go ahead only with the permission of the City of Perth and WA Health Department. A detailed Covid Safe Event Plan has been submitted for their approval. The event maybe canceled if permission is not granted and refunds will be offered.